design for postdigital play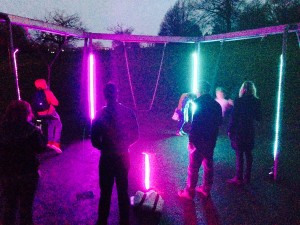 swing test
Brandon Hill Park, one cold, wet and windy December evening…
more…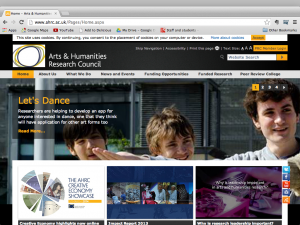 DanceTag on the AHRC home page…
And here's an interview I gave about the project.
more…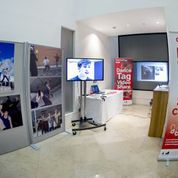 DanceTag at the AHRC Creative Economy Showcase
more…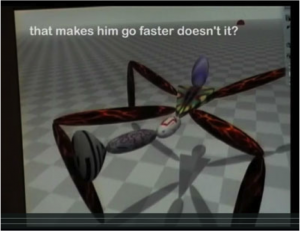 robots are go
With Silas Adekunle of Reach Robotics I have just been awarded a REACT Prototype grant to research playful robotics. More as it develops, but here's a bit of the application: Reach Robotics has designed an entertainment robot controlled by a smart phone game, palm-sized and personalisable. The aim of the project is to develop a […]
more…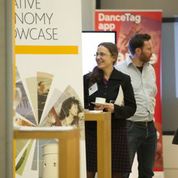 AHRC Creative Economy Showcase
more…
DanceTag at the AHRC Creative Economy Showcase
12th March 2014, London
more…
AHRC Creative Economy Showcase Event
My application for a DanceTag stand at the AHRC Creative Economy Showcase on Wednesday 12th March has been accepted. The event will, it promises: Highlight the vital relationship between the arts and humanities research base and the UK's Creative Economy Raise the profile of the UK's creative and cultural sector and highlights its contribution to growth […]
more…
Augmented Dance
DanceTag dissemination at the Pervasive Media Studio: Augmented Dance –  A Conversation  Tuesday, March 4th 10:00 – 17:00 Pervasive Media Studio Bristol UWE Bristol's Digital Cultures Research Centre, Seth Giddings from Dance Tag and Laura Kriefman from Guerilla Dance Project invite you to participate in a sounding out day investigating the future of Augmented Dance, hosted at the Pervasive Media Studio, […]
more…
dancing… and waiting…
Within the phenomenological framework, we can see how the mobile game-play in both urban and domestic places evokes particular kinds of embodiment, indicative of emergent habitual and quotidian behaviours, gesturings, positionings and choreographies of the body, at times partially determined by the culture of the user, at others by the technical specificities and demands of […]
more…
Harlem Shake, gangnam & planking
Field notes, DanceTag test at St Matthias Campus, UWE Bristol 19th Nov 2013 Following a lecture I gave introducing the project to third year Media & Cultural Studies students on a module called Games, Simulation & Media, and overlapping with introduction to video micro-ethnography of gameplay. Seven students in the workshop, one of whom had […]
more…
drawing board
Drywipe design!
more…
screaming, shouting YES!!!
Feedback from the 2BU test conducted by Joe Ryan: 2BU Dance Tag Notes 1.     If there was an app that enabled you to do all of this with anyone without uploading separately to YouTube, would you download it? Would you pay for it? How much? 2BU offered a resounding, screaming, shouting YES!!!! to the first […]
more…